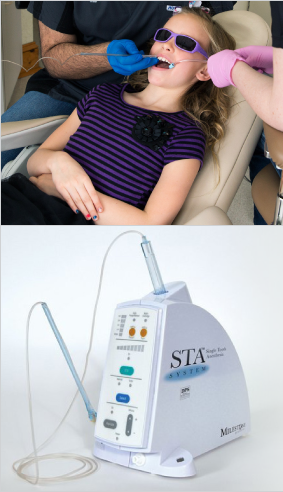 Single Tooth Anaesthesia
If you are fearful of injections you will be happy to hear that at Dentistry in Gravenhurst, we have the Single Tooth Anesthesia System® (STA), which is a combination of CompuFlo® technology and The Wand® hand piece that reduces the pain of injections in the sensitive areas of the mouth like the palate and front of the mouth. This system allows for a more predictable, comfortable injection of anesthetic and reduces injection pain.
Doctors have long known that the main cause of discomfort or pain during an injection is the flow of the anesthetic into your tissues. The STA® System is a controlled anesthesia system that allows the doctor precise control over the location and amount of anesthesia that is administered. This means that the injection is slow and steady and as comfortable as possible.
Most people who have had a bad experience with injections think that needles sting because the skin is pierced, but this is usually not so! Most often, the sting was caused because the anesthetic was fired in too quickly perhaps. Using the STA® we can help avoiding this by controlling the pace of injection with the wand. This can be reassuring for people with previous bad experiences.