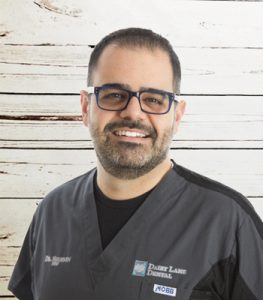 Dr. Shervin Rowshani
HBSc, DDS, MBA

Dr. Shervin moved to Toronto in 2001 where he attended school and majored in pathology and microbiology. After graduating from the University Of Toronto's Faculty of Dentistry – where he was actively involved in student politics being a representative for the ODA and CDA – he began practicing dentistry in London, Exeter and the Kincardine area where he became quite involved in dentistry and the communities he lived in. During this time he developed a passion for all aspects of dentistry including paediatrics, anxiety reducing sedation techniques and surgery. Dr. Shervin moved to Muskoka in 2013 after purchasing Dairy Lane Dental, his first dental practice!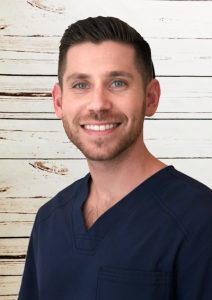 Dr. Daniel Goldberg
DENTIST, DDS

Dr. Daniel Goldberg grew up in Toronto and attended the University of Western Ontario for his undergraduate education where he studied Physiology and Psychology. He went on to obtain his Doctor of Dental Surgery (DDS) from the University of Toronto, graduating with honours. Following graduation, Dr. Goldberg completed a 1-year hospital dental residency at Advocate Illinois Masonic Medical Center in Chicago, Illinois. Dr. Goldberg practices General Dentistry.
Growing up, Dr. Goldberg spent most of his summers enjoying the outdoors of Muskoka and can often be found by the lake, kayaking, and hiking with his dog Mocha. Dr. Goldberg values the importance of life-long learning. He is an active member of the Canadian and Ontario Dental Associations and prides himself in making his patients feel as comfortable as possible in a relaxed and friendly environment.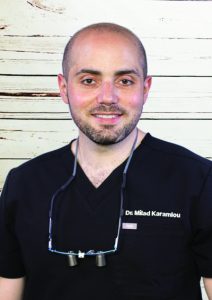 Dr. Milad Karamlou
DENTIST, DDS

Dr. Milad Karamlou graduated from the University of Western Ontario, Schulich School of Medicine and Dentistry. After obtaining his dental degree, He was accepted into the Advanced training post-graduate General Practice Residency program at The Ohio State University and received dental training in Oral Surgery, Implant Dentistry, Anesthesia, and comprehensive dentistry in a hospital environment.
Dr. Milad has a passion for Oral surgery, Implant dentistry, and Sedation dentistry. He is fully certified in IV Sedation and provides a comforting environment for his patients. During his residency in the US, he had the privilege to work at one of the US top ten hospitals, Wexner Medical Center, as well as the OSU college of dentistry, teaching Clinical Dentistry to dental students.
Dr. Milad is an active learner and has spent several continuing education hours in Oral Surgery and Implant Dentistry. He provides all dental treatments including implant placement, sedation dentistry and wisdom teeth extraction, allowing him to comprehensively work with patients to develop a healthy and beautiful smile.
He is an advocate of Oral Health Total Health and is an active member of oral health foundations like the Christian Dental Society. He travels to Jamaica and The Dominican Republic once a year to provide his dental services to underprivileged families in need of dental care.
Outside of dentistry, Milad spends time with his family and his dog Chica, and he enjoys swimming and mountain biking. He is a Toronto Raptors and Manchester United superfan!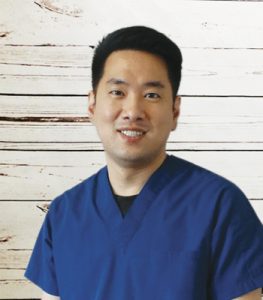 Ryan Lee
RESTORATIVE DENTAL HYGIENIST

After graduating a Bachelors of Science in dental hygiene in 2009, Ryan completed the Restorative Postgraduate Program with a specialization in orthodontics at George Brown in 2013. Ryan's interest to pursue a career that specializes in restorative originates from the excitement he finds in being a part of the change in an individual's smile. He enjoys being a part of their transformative journey to acquiring the smile that they have always wanted. Ryan has been part of Dairy Lane Dental since 2017. In his free time, Ryan enjoys traveling, snowboarding, and playing softball.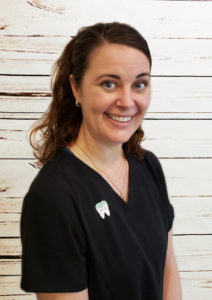 Sarah Robertson-Smith
REGISTERED DENTAL HYGIENIST
Sarah has been practicing as a Registered Dental Hygienist since 2003, a graduate of Fanshawe College.
Graduating as a level two Dental Assistant from Canadore College in 2001, Sarah pursued more education and completed her Registered Dental Hygiene degree. Sarah's passion for the profession and her work ensures everyone has a great dental experience.
On her spare time, Sarah enjoys skate skiing, trail running, canoeing and spending time with her husband and daughter.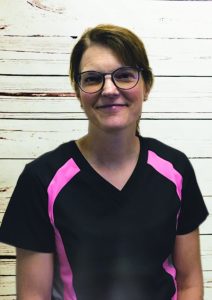 Tina Quinn
LEVEL II DENTAL ASSISTANT
After many years working in the health care field, Tina has expanded to dental assisting. In December of 2018, she graduated from the Georgian college, dental assisting program, making the dean's list. She is now a Certified Level ll Dental Assistant. At Dentistry in Gravenhurst, Tina is busy working chairside assisting the dentist and hygienists. It's her goal to make your dental visit as pleasant as possible. She feels the best way of achieving this is by displaying professionalism, compassion and a warm interest in her patients. Tina enjoys spending time with her husband and three children, sharing in volunteer work, and enjoying the outdoors.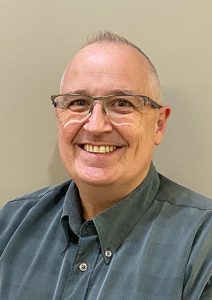 Michael Poitras
LEVEL II DENTAL ASSISTANT, CDR, CDTC
Michael grew up in Gravenhurst in his youth. He has 30 years of Clinical Dental Assisiting, Office Administration and Treatment Coordination. Having worked across Canada including Yellowknife Northwest Territories, Northern Ontario, Toronto and prior to joining Dentistry In Gravenhurst he worked 10 years in Beaverton, Sutton, Pefferlaw and Midland. Proud to be a member of a progressive and busy office and welcomes the advent of no more of no more commute and a place to call home. I encourage friends and family to give us a call.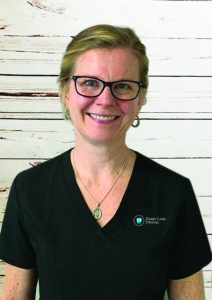 Denise Farnsworth, RDH
DENTAL HYGIENIST
Denise graduated with her diploma in dental hygiene from Cambrian College in Sudbury in 1993 and has practiced within the community for the past 26 years. In her spare time, she enjoys working out, particularly kick boxing, and snow shoeing with Gus the Beagle. Summertime is spent at the family cottage on Mary Lake or motorcycle trips with her husband of 25 years.
Janette Kreuzer
PATIENT COORDINATOR
Janette previously worked as a pharmacy technician for 20 years. She felt that Dentistry In Gravenhurst seemed like a good fit when she decided it was time for a new career challenge. In her spare time, Janette enjoys the outdoors, camping, ATVing and cooking.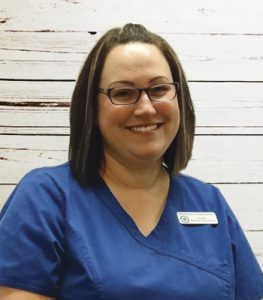 Elaine Dunlop, RDH
DENTAL HYGIENIST
Elaine was raised an East Coast girl. After graduating level 2 Dental Assisting with honors, she worked in Orthodontics for 5 years before graduating as a Registered Dental Hygienist (also with honors) in the year 2000. Elaine is committed to keeping her knowledge & skills current & she values the difference she can make regarding oral health. Elaine is married with 2 beautiful children. She enjoys downhill skiing, boating & family time in beautiful Muskoka.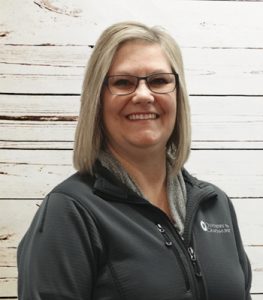 Diana Dureen
PATIENT COORDINATOR
Diana has been a Patient Coordinator since 2006. Her experience and dedication guarantees Dentistry In Gravenhurst operates efficiently. Diana takes care of most scheduling and insurance concerns and takes pride in ensuring that every patient receives personal attention and leaves our office satisfied.  When time allows, Diana enjoys travelling and exploring new places and spending quality time with her growing family.